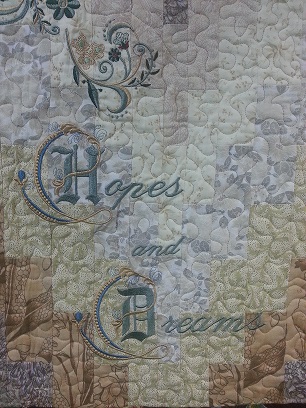 QUILT CHALLENGE RULES
The Hopes & Dreams quilt challenge is open to all quilters of all abilities.
Multiple entry forms may be printed from our website. To be eligible for prizes within this year's Hopes & Dreams Quilt Challenge - all quilts and accompanying entry forms must be received by July 31st. One entry form must be submitted and attached to each quilt.
Since most ALS patients are confined to their wheelchair and/or bed - we suggest the size of the quilt be bed size or lap size. For the comfort of your ALS patients we request the quilt be a minimum of 44" x 34". Larger quilts of all sizes are welcomed. Quilts may be quilted by hand, machine or tied. Knitted or crocheted blankets may be submitted and will be given to ALS patients, however, the prize categories are reserved for quilts.
All quilts entered will become the property of the Hopes and Dreams Quilt Challenge (Hopes & Dreams Quilt Challenge) and will be used to the benefit of ALS (Lou Gehrig's Disease). Most quilts will be donated to ALS patients. Other quilts will be part of the fund raising effort for ALS research. This fund raising may involve online and offline raffles and/or auctions and other fund raising tools. Some quilts may be taken on tour, displayed, and photographed to help raise awareness and funds through raffle and auction sales, or used in any way the Hopes & Dreams Quilt Challenge deems appropriate. All proceeds will go to ALS research.
Officers, employees and volunteers of the ALS Association (ALSA) or Quilters Dream Batting (QDB) and any person(s) residing in the same household of such officer, employee or volunteer are not eligible to participate in the prize categories of the Hopes & Dreams Quilt Challenge however they may donate quilts to the quilt challenge and may purchase raffle tickets.
Quilters may donate/enter more than one quilt to the Hopes & Dreams Quilt Challenge and are encouraged to do so.
Please print your contact information on the Entry Form as legibly as possible. Hopes & Dreams cannot be responsible for entry form information that is incorrect or illegible.
Winners for the Hopes & Dreams Quilt Challenge for ALS will be notified of their winning status no later than the beginning of October.
Winners who fail to respond to their winner notification within fifteen (15) business days from notification will forfeit their Prize. Winners who have their Winner Notification Letter returned undeliverable will forfeit their opportunity to win a prize. Neither the ALSA nor its designee will be required to attempt delivery of a Winner Notification Letter more than once.
Prizes awarded during the Hopes & Dreams Quilt Challenge are not transferable or assignable.
Prizes are not redeemable for cash.
Each Hopes & Dreams Quilt Challenge winner may be requested to participate in publicity efforts. Examples include an interview with television, radio and/or newspaper reporters and/or photographers or cameramen. This information may be used in future ALS donation programs, promotions, advertisements, and/or quilt contests without additional consent or compensation to the winner.
By entering this ALSA "Hopes and Dreams" Quilt Contest, all Contest winners agree to indemnify, hold harmless, and waive any claims against, the ALSA and QDB, and any of the affiliates, employees, directors, officers, agents, representatives and assigns of any of said entities, arising, directly or indirectly, out of, or in any way connected with, the Hopes & Dreams Quilt Challenge or the prizes awarded in connection therewith. By participating in the Hopes and Dreams Quilt Challenge, each person agrees to comply with and abide by all Rules and Regulations of the Hopes & Dreams Quilt Challenge, all final decisions of the ALSA and QDB, and all rules, policies and procedures established by the ALSA and QDB. All decisions are final.